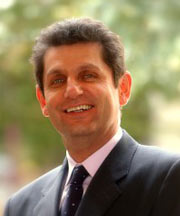 Dr. Ivo Sokol
Dr. Sokol received his Doctorate of Dentistry from the Charles University in Prague in 1980, where he graduated first in his class of 200 students. He completed his postdoctoral training at the University of San Francisco in 1989 and has been practicing dentistry for over 30 years.
Dr. Sokol and his team use the latest in advanced technology to provide the safest and most comfortable treatment options. He has advanced clinical experience in all facets of dentistry and can provide patients with a beautiful and healthy smile.
One of Dr. Sokol's goals is to provide optimal care in a comfortable and truly patient-centered environment. Many patients share their experience about his gentle nature and great sense of humor. His office is designed with his patients in mind.
His team has been specifically chosen to compliment his desires to offer the best possible care to patients and to offer services to more patients in the community. They regularly attend classes together to continue to enhance both their clinical skills and patient offerings.
When he is not practicing dentistry or attending continuing education courses, Dr. Sokol enjoys spending time outdoors with his family and friends. He enjoys working on projects that involve his creativity, such as wood-working and building. He loves the warmth of the people and the sunshine in AZ and is happy to call it home.
---